My Guy of Minnesota, LLC provides handyman services for the Twin Cities North Metro area.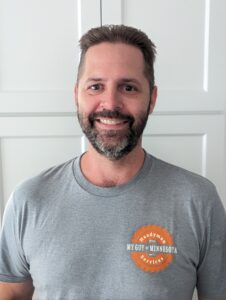 My Guy of Minnesota, LLC is owned and operated by Dave Wendling.  He believes in commitment, integrity and treating others with respect. Building, repairing and problem solving are all things he loves to do.  And, yes, My Guy of MN, LLC is licensed and insured.
Why name the company My Guy?
Well, simply put…Dave wants to be your go to guy!  Everyone knows someone for some reason.  Dave believes that if he can't help you out, he will refer you to someone who can.
My Guy of MN has done a wonderful job each time they have done work on our home. Dave is professional, reliable, thorough and an absolute pleasure to work with. He goes above and beyond to meet timelines and exceed expectations! I highly recommend Dave for all home improvement needs!

Angelique & Matt in New Brighton
Dave Wendling of My Guy of MN is my go-to person for house projects and improvements! He has lots of experience and house-smarts, is easy to work with, is tidy in his work ethic and does what he says he'll do right on time. He shows up in good humor and a get-it-done attitude. He's a trusted and reliable resource! Call Dave— he'll get all those pesky jobs done and he won't let you down!

Korey in Arden Hills
My Guy of Minnesota, LLC has always made time to help me with various projects. Fixing my fence, building a skirt around my shed, hanging shelves, building a railing along my porch, some yard work. Dave is professional, courteous and always willing to listen. You rock Dave! Thank you!

Elizabeth in Coon Rapids